I told myself for a long, LONG time that exercising in a group sounds like my nightmare! First of all, I don't know what I'm doing so I'm not going to be perfect at it. Second, struggling in a room full of people is very embarrassing! Plus there are just so many mirrors that they can watch watch me squirm from every angle. Next up? Morning classes. Like early. Like class starts at 5:30. In the morning. So here we have a small potpourri of Things I Dread: trying something new, not being perfect, people watching me not be perfect, and getting up early.
I have a touch of social anxiety. What does this look like for me? Welp, lots of fun symptoms include but are not limited to crying meltdowns before group outings, getting sick at large events (cute), hiding in bathrooms at large venues, and overcompensating with too much excitement (interrupting others and grilling people like they're at a job interview). It took me a while to identify these as patterns but once I read about and looked for them…It's been a lot better! Needless to say, I knew just putting myself in this situation was going to make me nervous. I have really been trying to challenge myself so I set my alarm for 5:00am. Want to know how my first class went? K!
Where my introverts and socially anxious people at?! If you're an introvert, you are going to be both mortified and delighted by my experience. If you're an extrovert then enjoy the pictures 'cause this is going to sound absolutely ridiculous to you. Either way, you're here and I'm happy to have you!
What to Do at Your First Workout Class
Arrive 10 minutes early.
I arrived only 4-5 minutes early and it was not nearly enough for reasons you'll soon discover. Arriving mere seconds before the start time of anything is traditionally considered "early" in Katie Time. So let us take a quick moment to acknowledge that.
Triple-check aka Procrastinate.
I parked, the gal at the front desk scanned my keychain, and I asked questions I already knew the answer to. BUT WHAT IF I DIDN'T, YOU KNOW?
Me: "Hi, I've never taken a class before, what do I do?"
Her: "Ok, great! Go on in and find a spot. Class starts in about 5 minutes. Lift as much or as little as you want, go at your own pace."
Me: "Cool, thanks."
Also Me: *go-in-find-spot-panic-5-minutes-lift-more-than-you-should-freak-out-go-fast-be-perfect-panic*
Go On In and Find a Spot.
I am ruler-follower so I did as I was told. I was also feeling terrified so I zeroed in on an open spot the second I opened the door. Class started in 4 minutes so I piled my pink fluffy sweatshirt and Ugg boots by the back wall and slid on my tennies. I walked to The Spot and psyched myself up.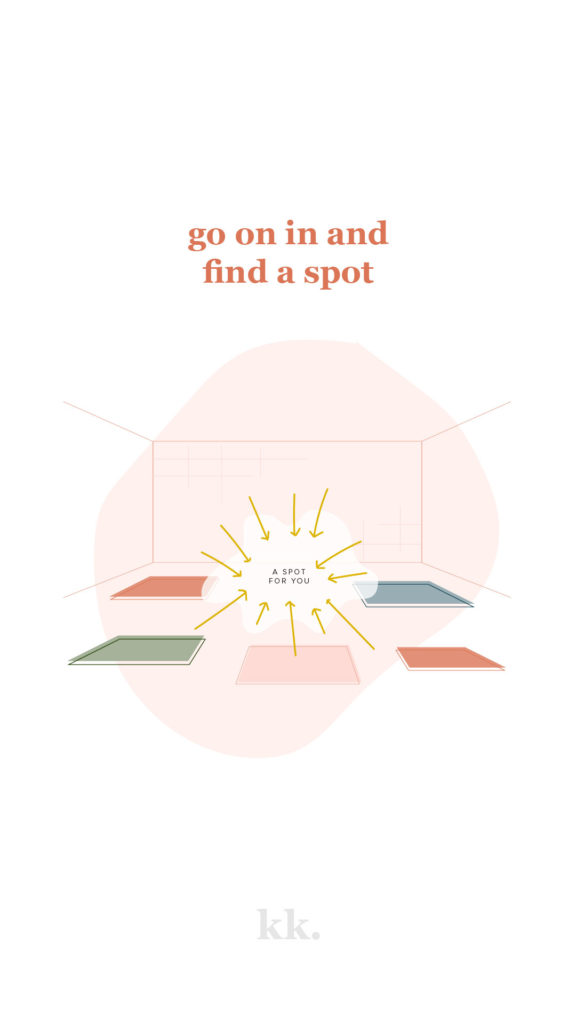 Lift Those Weights.
The instructor started class. The tunes were playing. I lifted the various weights lying before me. They were really freaking heavy. We were nearly 10 minutes in and everything was mostly fine. A woman arrived about 10 minutes late, looked around, and walked across the room kinda towards me. She said, "Excuse me, are you…? Did you…?" and walked away. I was oblivious, I smiled and focused on how heavy these darn weights were. She emerged from a closet with equipment. Weights, bar, a mat, the whole shebang.
Which I never did…
…I waltzed in the door, found a spot, and started lifting.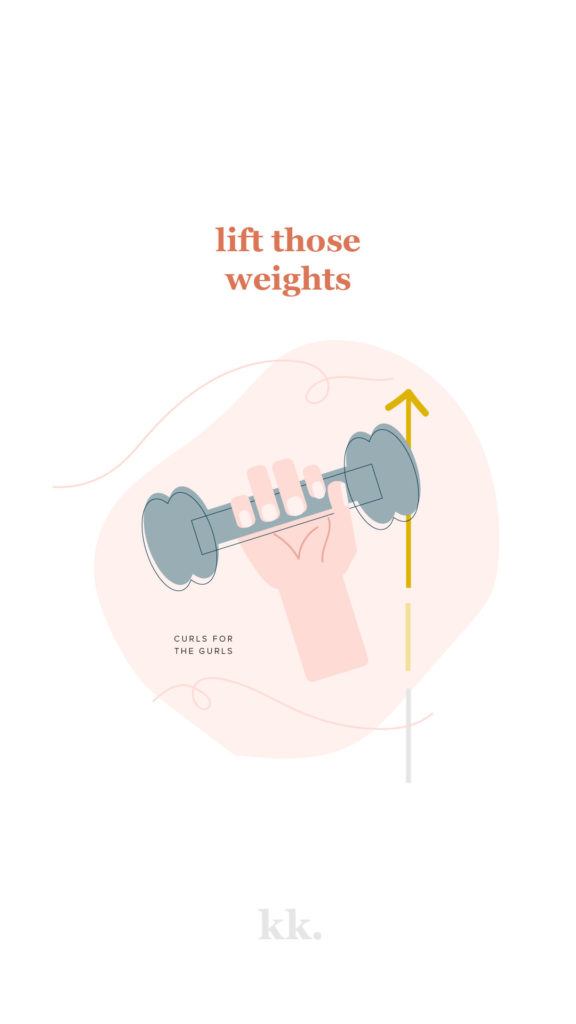 Get Your Own Sh*t
There was a slight break where people shifted their equipment and sipped water. The woman walked by me to grab her water bottle and gently mentioned, "Make sure you come a little early next time. You need to set up your own equipment before each class."
And it finally dawned on me.
I was in her spot. Using her weights. I was MORTIFIED.
Stick With It
At this point, I was in Fight or Flight mode. I was telling myself, "Don't you dare. Don't you DARE cry. Suck in those little tears" while simultaneously glancing at the door thinking, "Humiliation is FUEL, you could be gone in seconds." Instead I did not cry and I did not run out. I stayed. I survived the whole class and was only a little humiliated when two gals from my church were in there the whole time! I was blinded by sheer embarrassment and hadn't noticed them earlier. SUPER.
The kind soul whose spot I borrowed, introduced herself as Melinda after class. Come to find out, she has been coming to this class for more than 12 years and sets up her equipment extra early so she can run on the treadmill before each session. I apologized profusely, and then apologized a little more for good measure.
For those of you keeping track at home, my worst introvert nightmare became reality. Not only did I steal the spot of a beloved attendee, I did so in a mirrored room where everyone watched the whole scene unfold. To top it off I didn't know what any of the moves were called and I lifted weights that were way too heavy for me. That pretty much checked all the Things I Dread boxes.
Be Decent.
I went back the next Monday morning. Got there 15 minutes early (yes, ME!). Found a spot in the back. Set up all my equipment. Put on my shoes and stretched. Melinda greeted me on her way in, "Oh my gosh! I'm so glad you came back! This is my favorite class and I was worried we'd never see you again after last week. By the way, how are you feeling? I couldn't believe you used my weight the whole time!"
Girl, SAME. I also cannot believe I used your weights the whole time. She lifts heavy. I explained that I hadn't come back on Friday because I couldn't move or lift my arms for a solid 4 days after class. My hair was an absolute mess because I could not raise my arms to put a ponytail holder in. I'm also very glad headbands are back in.
I am not kidding when I tell you the only reason I even thought about going back and trying that class again is because Melissa was so kind, and decent, and gentle. She didn't yell, shout, or demand that I move. She didn't offer a snarky or sarcastic remark. She didn't shoot dirty looks my way during class. It would have been so easy and probably a more natural reaction to totally shame and embarrass someone who steals your equipment and spot! But she didn't. I'm still kind of surprised and totally impressed by how she handled it. There are so many easy, short words and phrases to offer encouragement and kindness between reps.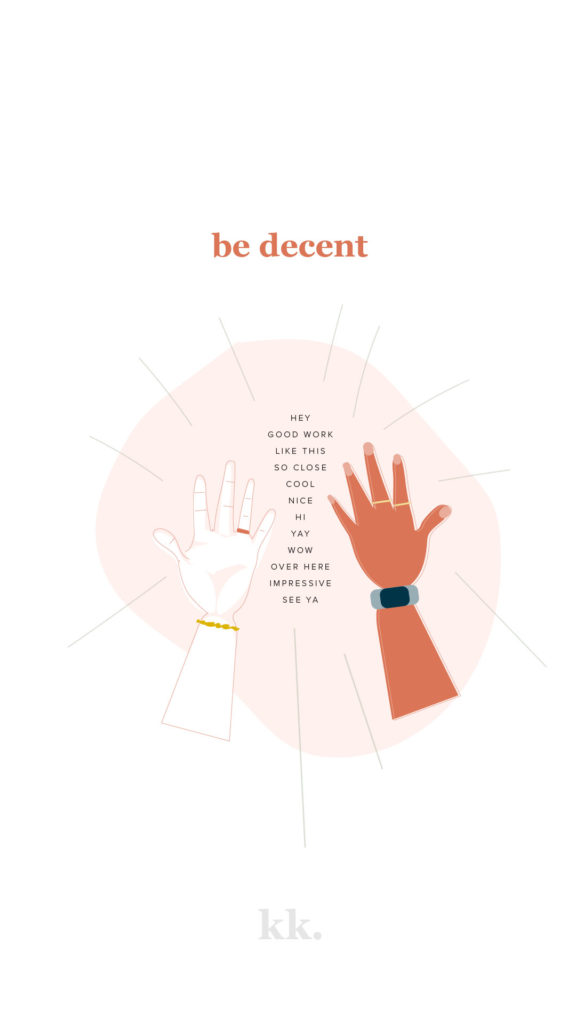 This post started as a funny, self-deprecating story about being an introvert and surviving my worst first-world fears. But it kind of morphed into a life lesson. January is a big goal-setting, resolution-making time of year. Health and fitness is a big one for a lot of people! This is good! So whether it's January or May or December, don't make anyone feel like dirt for trying to improve themselves. Show them where the equipment is. And be decent while you do so. You don't have to be cheery even. Just decent. Someone might come back to class because of your not-cheery-but-not-terrible interaction. Realize that an activity that's super easy for you to do, like showing up for a one-hour workout class, might be a real fear for someone else (hi!). There are some real risks in the world and I would never encourage someone to put themselves in the harm's way. But if you can survive your brain's version of the worst case scenario then I think you'll be stronger for having tried whatever it is.
Go on in and find a spot.