In May of 2018 I had the distinct privilege of joining a group of physicians on their medical mission trip to Rwanda (more on that later). Getting to Rwanda from Omaha requires a route like this: Omaha > Another big airport with more connections > AMSTERDAM > Kigali, Rwanda. In an effort to adjust to the new time zone and keep each traveller's sanity, we spent one day and one night in Amsterdam. When I first learned I had the good fortune of going on this trip, I was felt overwhelmed by all the activities one could do in Amsterdam. In some of our travels, we have over-scheduled ourselves and it can suck the fun out of the day. Part of traveling is seeing how other people live, eat, shop, commute. It's really hard to observe and enjoy if you have tickets to seven different museums and sights. Once I came to terms with our super-short stay in Amsterdam, I made peace with the fact that we can't fit everything in. This took the pressure off and allowed us to enjoy the company and wandering.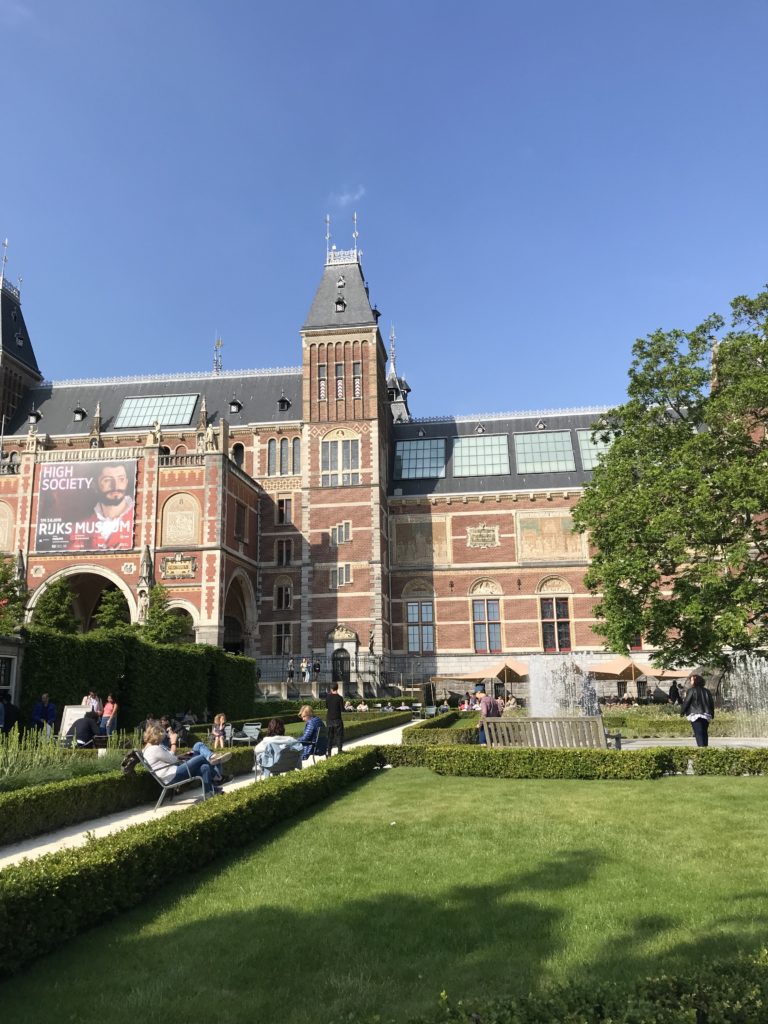 What We Did and Didn't Do in Amsterdam

We did not nap.
And now, from the beginning. We waltzed off plane after our overnight flight and checked into our hotel which was attached to the airport and train station. Staying at a hotel attached to to the airport is a great option if you're freaked out about navigating Amsterdam or are coordinating travel with a large group (ahem, herding cats). After checking in we showered and did not lay our sleepy little heads on a single pillow. Powering through is a new one for me. Simply glancing at a fluffy white hotel bed can cause me to succumb to jetlag. This is a Cale trick and it worked. No nap. Instead we laced up our tennies, threw on our jackets and got ready to cover some serious ground.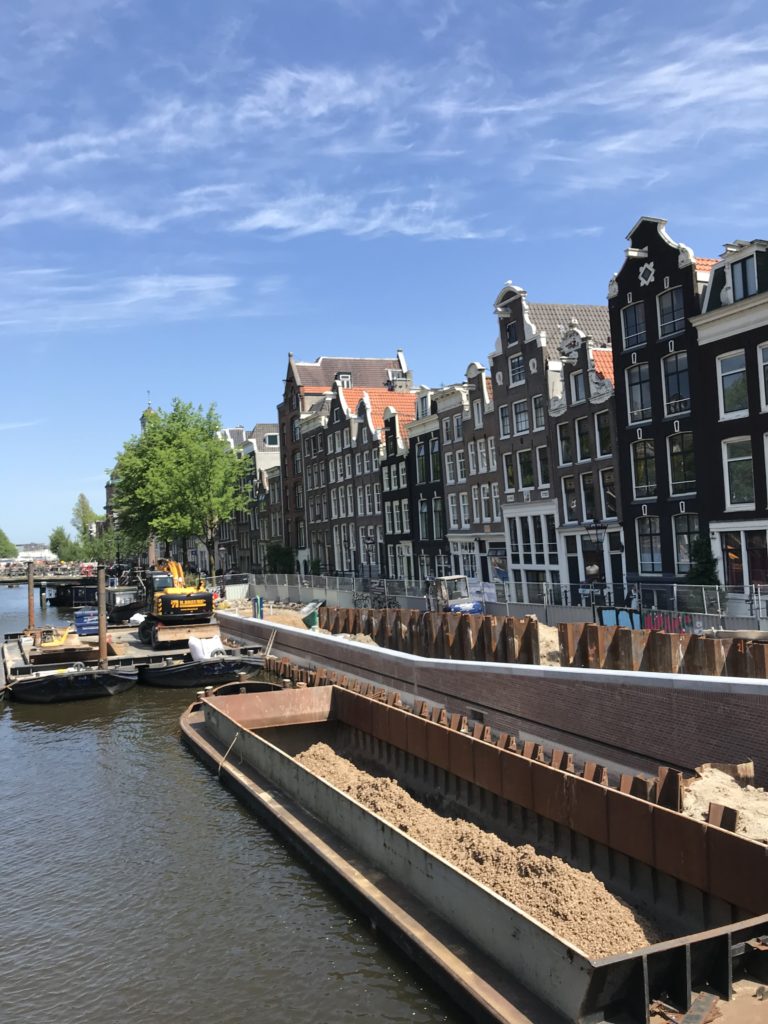 We did stroll along the canals.
Honestly, Cale and I would agree that these wandering types of days are our favorite in any city. When the pressure is off, you're free to take photos of anything and everything, eat when you're hungry, sit and grab a drink, swing into expensive shops you have no business being in, etc. Obviously the architecture of the homes and businesses along the canals give the city it's charm. If you are wandering with absolutely no agenda, be aware that the rest of the population of Amsterdam are on bicycles and they have places to be. Keep your head on a swivel and get outta their way!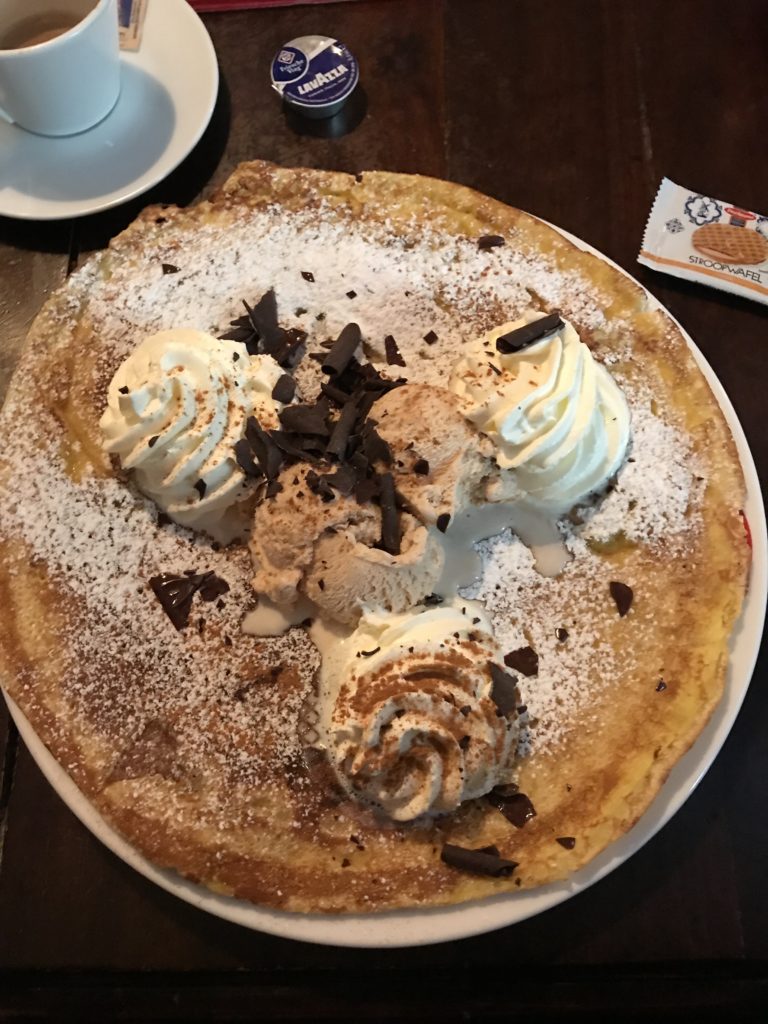 We ate giant waffles.
If you're gonna be walking miles and miles around a beautiful city, you're going to want to carb load. And carb load we did! I'm sure there are a million more quaint, gourmet restaurants but these giant waffles WITH ICE CREAM are not to be missed! I think two people could easily split a single waffle but there are savory and sweet options so good luck deciding. We got two waffles because we are overachievers.
Where We Went: The Pancake Bakery
We did walk by the Anne Frank house and the long line to get in.
The front door of the original home is totally nondescript (it was a regular home so…) but you can take a picture of or nearby the plaque of the front door. If this is an important stop for you, get tickets exactly two months in advance of your visit. We weren't able to secure tickets but I absolutely intend to make it back to Amsterdam and walk through the home, which is now a museum.

We did [try to] take photos in front of the famous sign.
We had covered a lot of ground and built up our Tourist Tolerance by now. By this I mean we said goodbye to our personal space hours before. Just know that you're going to have a bunch of strangers in your vaca photos. You'll be fine and there's no way around it. You can laugh about how weird people are later. Bring coins for bathrooms and peruse the gardens nearby – it will feel like a breath of fresh air!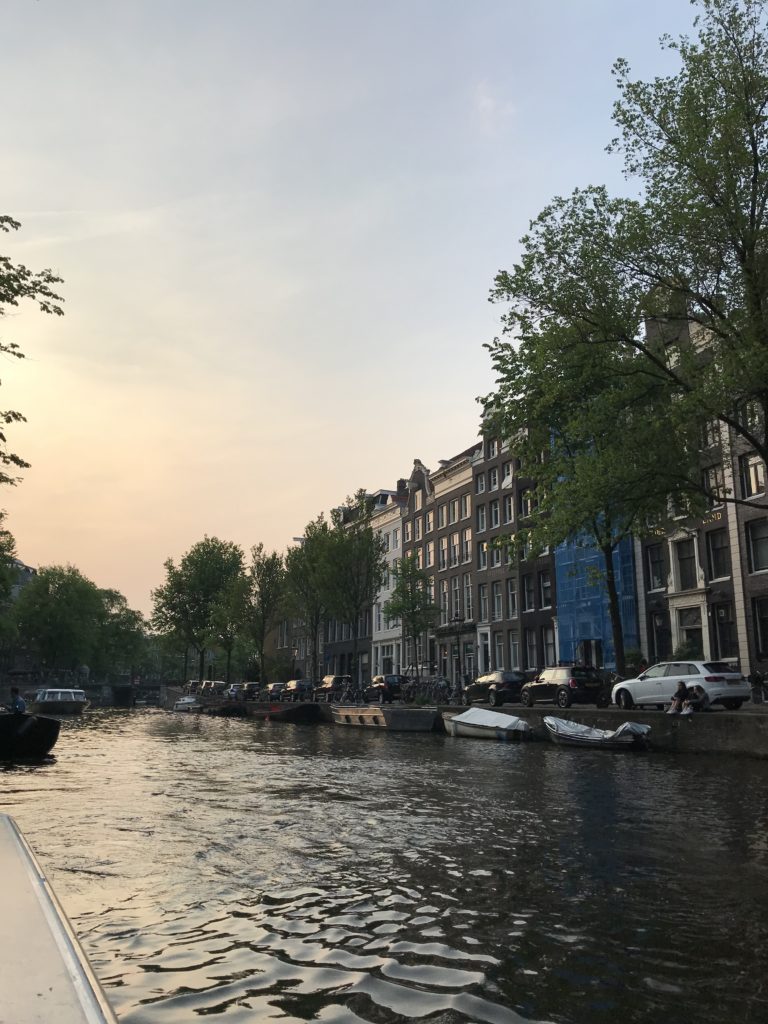 We did take a canal cruise.
This was such a fun way to see the city. Touristy? Sure! But it was super enjoyable. Everyone gets [many] glasses of [cheap] wine, your own little personal pizza, and ice cream. I think you can please anyone at any age with that menu. I really liked doing the cruise because offers you a chance to sit(!) after walking all day while enjoying the architecture and evening views. There were so many quirky cool house boats that we saw along the way too!
We did walk through the Red Light District.
Yep. And lived to tell the tale. It is at once exactly what you expect and totally different. The District is marked by red posts and lights so you know exactly when you step into the area. Wouldn't recommend this as a family activity because you will see and smell things you maybe shouldn't. But seriously, it was a way more civilized 15-20 minute experience than I expected it to be. Walk through and walk on home.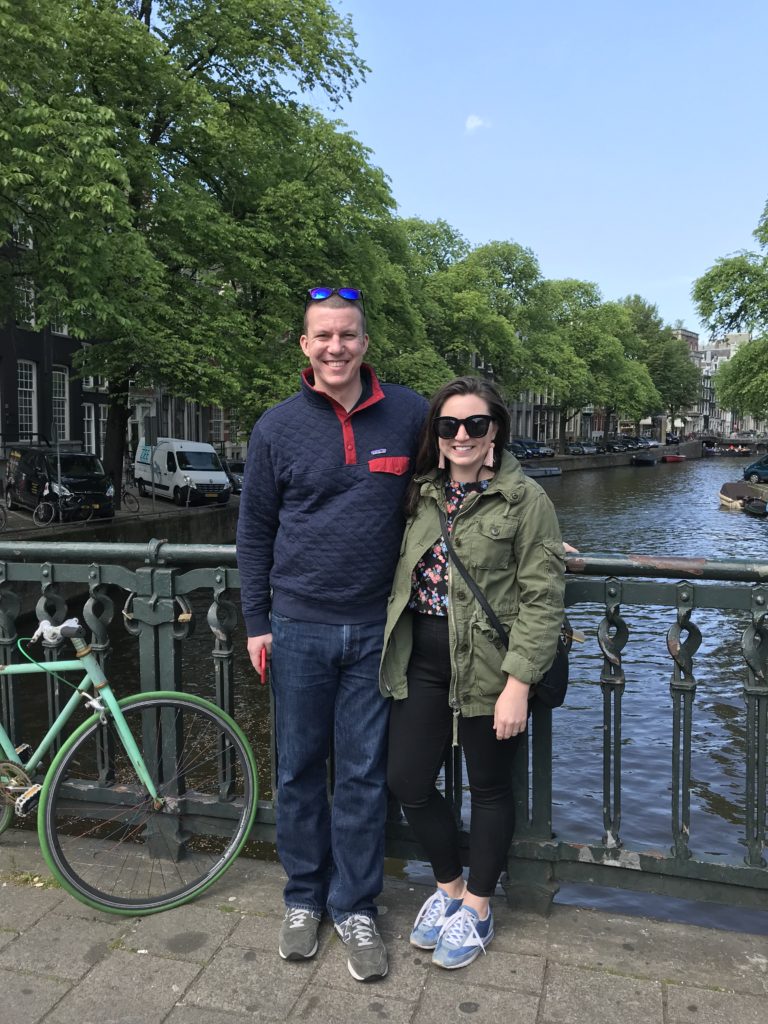 What to Pack for Amsterdam
A few tiny nuggets of advice on the thing I stress over the most: packing. People are going to know you're a tourist no matter how chicly you are dressed, so be yourself and wear socks, shoes, pants, shirts, bras, jackets, etc that allow you to focus your eyeballs on the beautiful things around you.
Pack comfortable shoes. I get blisters so easily so I am always willing to sacrifice spaces for clothes in the name of an extra pair of shoes. I don't care if they are thick-soled Dad Sneakers or comfy suede boots or both, but you do not want blisters on the first day (or any day) of your trip. A gal in our group wore ankle boots with a decent heel and ended up buying flip flops at a gift shop because her feet hurt. So there's a back-up option for you. Pack or buy some bandaids just in case.
Wear light layers. Granted, we went in the spring so the weather was super pleasant. Even still we spent pretty much the whole day alternating between wearing our jackets and taking them off. If you're going to go the No Nap route, and spend your whole day out and about, definitely bring some kind of light layer. You'll be much more comfortable in the evening and night if you're walking or sitting outside.
So that was our adventure in less than 24 hours in Amsterdam! We are actually heading back later this spring and intend to get to know this city much better on the next adventure, mostly because we can spend more time. Do you have any recommendations or things you would add to the list?